Sunday 24 September 2023
Pentecost 18



Introit
Welcome Everybody
Church Notices
Introduction/Call to worship
Christ Is Made The Sure Foundation
Opening Prayer & Lord's Prayer
(Tony Wilson)
All I Once Held Dear
Scripture Reading:
Matthew 21, 33 – 46
How Deep The Father's Love for Us
Offering
(Praise God the source of life and birth)
Prayer for offering and Prayer of Intercession
(Tony Wilson)

My Hope is Built on Nothing Less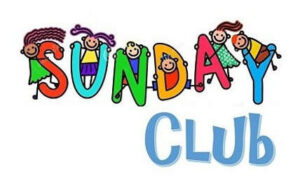 Hallelu, hallelu, Hallelu, Hallelujah
   Benediction
May God's Blessing Surround You Each Day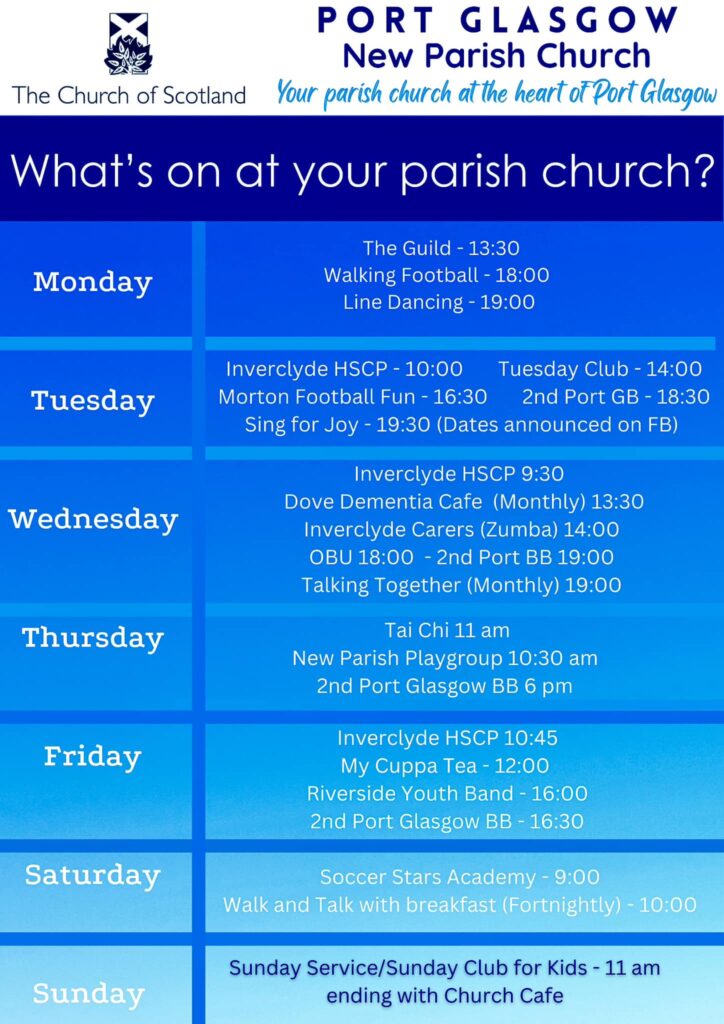 New volunteers are always welcome.
Port Glasgow New Parish Church Pastoral Group visit members who are ill, in hospital or in Nursing homes
This dedicated team are a strength to the members and are always welcomed in.
BUT we do not always know who is in need, so please contact either our minister William or one of our Session Clerks. 
Go to contacts on the menu bar for details.
Our official Music video
It's official – we now have our own Music video 
 Shine from the inside out (the Port Glasgow version) I am so proud of our young folk, you are all superstars and to those who took part today, we might have future Church of Scotland Ministers on our hands 
 So far Boys and Girls nearly 700 people have watched your service this morning – Thanks again, your Minister and friend, William
Please click on the photograph which is linked to the video on Facebook to hear our song.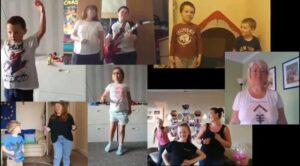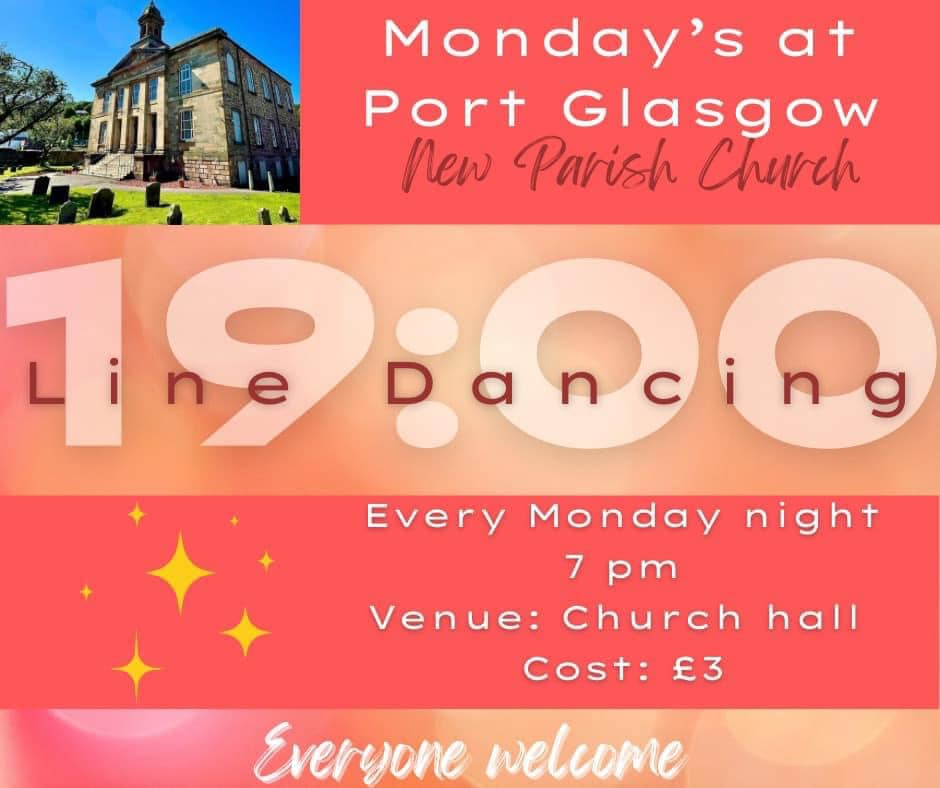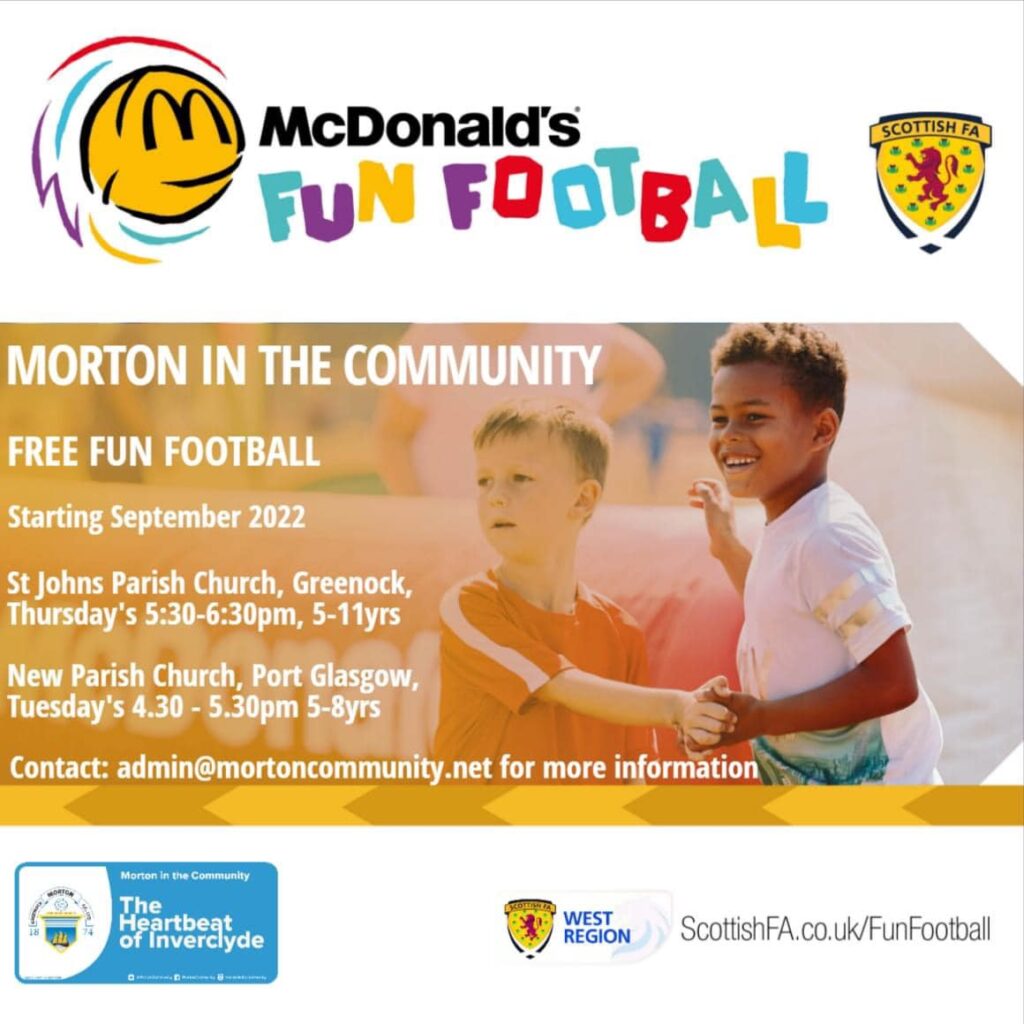 WhatsApp Prayer Group

If you would like to be part of the WhatsApp Prayer Group contact Helen Eckford on 07709 932767
To be a Christian without prayer, is no more possible than to be alive without breathing. (Martin Luther)
We have so many people and so many things to pray for in Port Glasgow: New Parish Church that we need all the help we can get.  Each member of the group will receive a list which will be updated regularly, of people and things that we need to pray for.
You then do this in your own time and space.

Remember too, the book in the vestibule of the church where you can write the name of anyone you know who needs support through prayer. 
What a Special Happy Day for our Church!!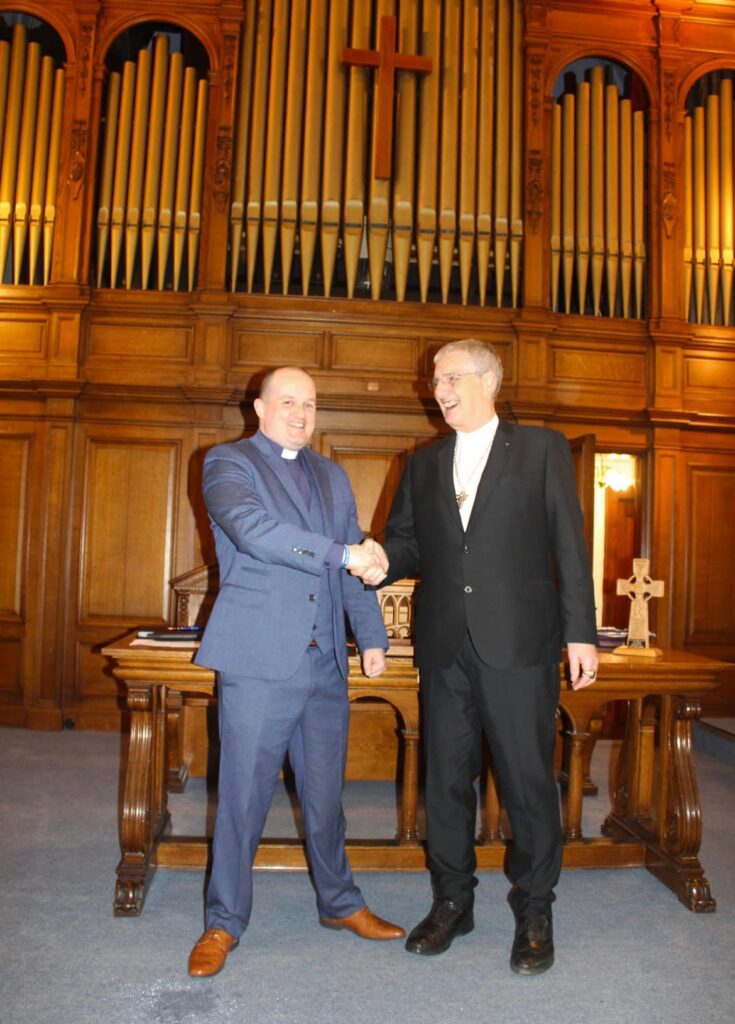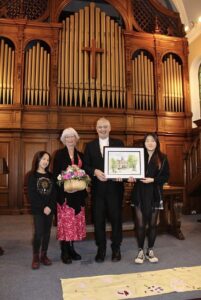 The Right Reverend Dr Iain Greenshields, the Moderator of the General Assembly of the Church of Scotland and his wife and children came to visit.
The Moderator preached a very powerful and important message for us all. I liked when he said "Some people like to throw stones at the Christian Church and say, what a boring lot you must be…really? …Following someone who was so entrancing and exciting as Jesus Christ, someone who was willing to give his life for us. Following someone who gives us a clear direction in life, in a world that is deeply confusing. Following someone that says, I have come to give you eternal life, and not even death can rob you of that hope, that I am willing to plant in your heart if you come and follow me.…."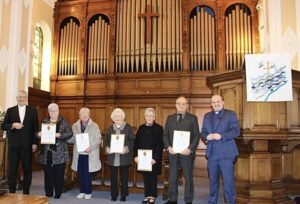 The Moderator also presented long service certificates to 5 of our well-loved and valued elders for 30 years service – Wilma, Agnes, Sheila, Elspeth and James
.
We pre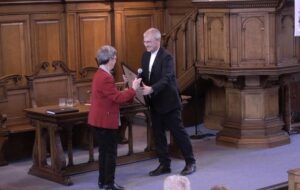 sented the Moderator and his family with a framed painting of our church, painted by Sheena's brother, Alistair.
The Service finished with the Sunday Club Song Shine from the Inside Out and the Moderator joined in on the action!
A buffet was served in the hall after the service where approimately 160 attended. The Moderator kindly cut the cake, marking our 200th anniversary as a church
.
What a day
Thank you to everyone who came along and to everyone who made it such a successful day
Our church is 200 years old and growing all the time. We hope more people within our community come and join our church family.A buffet was served in the hall after the service where approximately