Becoming a member of the church
Thank you for expressing an interest in membership with the Church of Scotland. Please find below information on the church and how to become a member.
The Church of Scotland
Port Glasgow New Parish Church is part of the national Church of Scotland. The Church of Scotland is one of the largest organisations in the country with over 330,000 members, with more regularly involved in local congregations for example.
The Church of Scotland has around 800 ministers serving in parishes and chaplaincies. Through the churches social care arm Crossreach, the Church of Scotland is also one of the largest care providers in Scotland looking after a variety of different people of all different ages. Our nearest Crossreach centre is in Elderslie supporting people with advanced stages of Dementia. 
Port Glasgow New Parish Church
Port Glasgow New Parish Church was formed in 2019 with the union of St Andrews in the centre of Port Glasgow and St Martin's in Woodhall. Our Parish covers a large area of Port Glasgow as you will see below in red: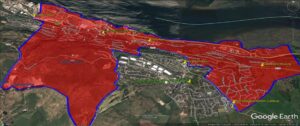 On a Sunday morning we have a congregation of around 200 which also includes Children and teenagers who are a hugely important part of our church family. Our young folk attend Sunday Club and our Lasers group weekly and will also be involved in our Sunday services. We also reach well over 300 local young folks through various organisations who meet weekly and have various groups for a wide variety of age groups.
To become a member of the Church of Scotland, you will need to have been baptised and go through one of our informal membership courses. We meet together for around 5 weeks for about an hour and a half. This is how the weeks look:
1/ Acceptance
2/ Belonging
3/ Commitment
4/ Vow 5
5/ Discipleship
Each week we watch a short video on the above topics and then discuss them with each other. The course is very informal, you don't have to be an expert in the Bible and there is absolutely no pressure for you to answer questions and you will not be put on the spot at any time.
We then explore each of the vows that you will see below. These are the vows that you will be asked at a church service when you become a member so that you understand what you are saying yes to.
The vows are…
Do you believe in one God, Father, Son and Holy Spirit, and confessing Jesus Christ, as your Saviour and Lord?
Do you promise to join regularly with your fellow Christians in worship on the Lord's Day?
Do you promise to be faithful in reading the bible and in prayer?
Do you promise to give a fitting proportion of your time, talents and money for the Church's work in the world?
Do you promise depending on the grace of God, to profess publicly your loyalty to Jesus Christ, to serve him in your daily work, and to walk in his ways all the days of your life?
The above might sound like a lot and sound quite daunting but this is all covered over five weeks. The vows above will be asked during a regular Sunday morning worship service by responding with "I do." During the membership course there will also be other people there who will also want to become members or previous members to put your mind at ease.
We are a friendly and welcoming congregation at the heart of Port Glasgow and would be delighted to discuss membership further with you.
If you have any questions, please don't hesitate to get in touch with myself :-
Rev William Boyle – Email: [email protected]